Takeaways
Reg CF is the U.S. rule set that permits start-up businesses to raise up to $5 million from investors, regardless of accreditation.
Crowdfunding is a very small pool of investment but is increasingly of interest to commercial real estate projects and emerging technology companies.
Reg CF requires issuers to go through broker-dealers or platforms, both registered with Finra.
Equity, debt, and mezzanine securities can be issued via Reg CF.
Although Reg CF was originally intended to provide capital to underserved entrepreneurs, there is little evidence that it has changed the game for businesses owned by women, minorities, veterans, or rural residents.


Like Kickstarter for your stock
Maybe you've put money up on Kickstarter so you could be the first in your town to own a new game from an independent developer. Or perhaps you've contributed to a GoFundMe campaign for a neighbor who's been overwhelmed by misfortune. If so, then you're already involved in crowdfunding and probably aware that the same model can be applied to selling your company's stocks. But with a preponderance of ways to attract investment –privately via Regulation D, publicly via Regulation A – Regulation Crowdfunding becomes another option best suited to a specific use case.
Manifested in 2015, Reg CF might be the only digital native funding mechanism for corporate securities (if you concur that cryptocurrencies aren't securities, but the jury is literally still out on that). It fills in the blanks of a significant portion of 2012's JOBS Act, amending existing securities laws to permit a wide swath of investors to fund start-ups by buying the early-stage company's equity. Previously, this was mainly the domain of wealthy aunts and uncles.
And that's the big difference between Reg CF and Reg D; while Reg D enables start-ups to access private money from accredited investors, Reg CF helps them find anyone.
In a nutshell, Reg CF governs transactions taking place online through an SEC-registered intermediary. These are usually Financial Industry Regulatory Authority-regulated broker-dealers or funding portals. The directive stipulates how much a company can raise through crowdfunding in 12 months; in late 2020, an SEC action raised the ceiling to $5 million from the original $1.07 million. It also limits how much individuals can invest across all crowdfunding offerings in 12 months – between $2,200 and $107,000, depending on their financial resources.
At the very least, issuers have to file a Form C with the Securities and Exchange Commission disclosing:
bios of officers, directors, and owners of 20% or more,
a description of the issuer's business,
the intended use of proceeds,
the method for determining the security's price,
the target offering amount and deadline, and
a discussion of the issuer's financial condition and financial statements.
There might be more requirements depending on how long the company has been in business and what its current revenue stream looks like.
Like Reg D offerings, there's a requirement under this heading to disqualify "bad actors" – insiders who have run afoul of the courts, the SEC, Finra, the U.S. Postal Service, or other institutions charged with protecting the public from fraud. This measure is to protect investors who, for their part, must agree not to trade their investment for one year – which is still better than the multi-year lock-in periods they'd have to wait out for other early-stage investment vehicles.
While much of the capital raised via Reg CF is common stock, you can also go this route to issue preferred stock, debt, or hybrid securities. Foremost among these are simple agreements for future equity – or SAFEs – a form of convertible notes.
To be eligible for Reg CF issuance, your company would have to be U.S.-domiciled, in compliance with SEC, and have no current plans to engage in a merger or acquisition with an unnamed company. While that rules out going from crowdfunding directly to being merged into a SPAC, there is some good news here. Effective March 15, it will be in compliance to establish a special purpose vehicle for the expressed purpose of facilitating investment in Reg CF securities.
Your name here
The question is, then: Who is it probably for? Essentially, all those left behind by traditional funding. Although statistics are hard to come by, the JOBS Act intended to provide a path to investors for underserved entrepreneurs: women–owned businesses, ethnic minority-owned businesses, veteran-owned businesses, and businesses established outside major metropolitan areas.
Still, of the $239 million raised via Reg CF in 2020 – a paltry figure compared to the $127 billion raised last year via all U.S. domestic channels researched by global law firm Baker McKenzie – very little probably found its way into the business checking accounts of members of these communities.
In early 2018, the U.S. Small Business Association published a report on Reg CF's first year and, while it found much to praise about the process, it was less sanguine about how it serves those who might benefit most.
"There was less crowdfunding activity among businesses located in states and metropolitan areas that are not already considered technology and finance hubs," according to the SBA, which further acknowledges that "it is currently difficult to measure crowdfunding participation among minority- and veteran-owned businesses."
There was enough data, though, to find that only 17% of crowdfunding businesses had a female executive who could sign checks.
Overall, Reg CF seems to be working, though.
"Unlike venture capital, where less than 6.5% of start-ups successfully raise funds, the success rate in [Reg CF] hovers around an impressive 60%," according to a VentureBeat article. "The average raise ($270,996) helps start-ups hurdle the 'valley of death' they often face after expending their internal or personal capital."
Platform bootstraps
As of this writing, Finra reports that there are 76 regulated crowdfunding platforms in the U.S. More are regularly being added, and several have been ordered to cease and desist, so the total is a moving target.
In a crowded field – which most industry watchers agree is destined for consolidation – it's hard to stand out. But, unless you're one of the lucky few with an in at a broker-dealer, you'll have to go through one of them if you want to raise Reg CF capital.
Finding the right one could be a challenge because they all have relative advantages and disadvantages. Also, some have specialized areas, while others are entirely generalist. Some questions to ask:
How many people invest through the site?
What does the platform do to market your securities?
What proportion of the raise goes straight to the platform?
Are there other fees involved?
Is there a minimum raise?
Once the target amount is reached, can you still raise more?
What happens to the funds collected if the raise fails?
What kind of securities can be sold via the platform?
Does an issuing company have to name a chief financial officer or general counsel?
What other requirements does the platform have that are not already spelled out by the SEC?
Does the platform specialize in a particular industry, geography, or demographic group?


At the close
While the number of crowdfunding platforms might shrink, the amount raised is almost certain to grow because of the ease of getting funded and the low regulatory hurdle.
Organically, Reg CF-governed deal flow tends to grow by double digits a year-over-year. With the maximum 12-month raise growing by almost 5x with the stroke of a pen, though, you can expect the rate of increase to quicken even more. And with blank-check companies coming online to play the SPAC role, one primary source of dissatisfaction with equity crowdfunding has been removed. Growth could be explosive going forward.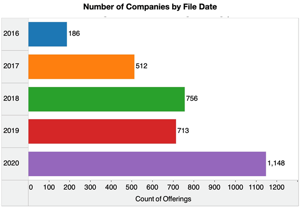 Source: Crowdfund Capital Advisors
That will especially be true in real estate, where multifamily, office, warehouse, and hotel projects have been involved in crowdfunding from the get-go. This also bodes well for green energy, cannabis, and other emerging industries to which legacy financial intermediaries are slow to cater.
William Freedman writes about business, technology, and finance for Global Finance, Macrotrends, AlphaSense, Sharestates, and other news outlets. He holds an MBA in international finance from The American University and serves on the board of governors of the New York Financial Writers' Association.