Regulation, the conventional wisdom goes, is bad for the financial services industry. That purported wisdom, though, is in fact folly.
Certainly, this business sees more regulation than any other. The case could be made – and frequently is – that the financial sector is over-regulated, and it's not our purpose here to counter that argument. Regulation, though, is the tactical application of statute. That's different from policy, which is the judgment call of what emphasis is put on which regulations. It's a much squishier concept which is difficult to measure or even articulate. And yet we can rely on one truism to crystalize what the Biden administration has in mind for the investment community: Personnel is policy.
We now know who will be heading up the agencies most concerned with registered investment advisers, their representatives and their clients. From there, we can glean insights into their go-forward plan based on their curricula vitae. So with the standard disclaimer that past performance is no guarantee of future results, let's meet the new sheriffs.
Securing
S
ecurities
The most direct impact will likely come from the change in management at the Securities and Exchange Commission, which registers RIAs. The chair-designate there is Gary Gensler.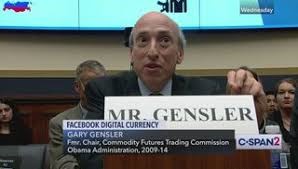 Incoming SEC Chair Gary Gensler. Credit: C-SPAN
Having held the same job at the Commodities Futures Trading Commission for five years under Barack Obama, he clearly has the skills. As an audition, Gensler served as chief of the Biden transition team's financial agency review panel. As such, he led a group that was comprised of almost equal parts lawyers, more junior-level economists and idealogues from the left side of the Democratic Party. Biden, of course, is not from the left wing, and neither is his SEC pick. None of the partisan on that panel have yet to secure a White House job.
That's not to say that Gensler isn't a partisan, just a fairly moderate one. There's just so far left that a Wharton MBA is likely to lean. He held senior positions in Bill Clinton's Treasury Department and, since then, lifelong Baltimorean has been intimately involved in the Maryland Democratic Party and a number of statewide campaigns.
"Gensler is not a lobbyist or a hired gun. He's not a political official or a paid talking head," Julie Hirschfeld Davis wrote in the Baltimore Sun back in 2002 but would've been just as accurate last month. "He inhabits a realm between professional wonk and political operative and is valued in Democratic circles for his expertise on finance, his quiet-but-intense negotiating skill and his ability to cut deals that advance the party's agenda."
And now he gets to participate in setting that agenda. He has a reputation as a reformer, but is it really warranted? He came into the CFTC when the entire financial system was on the verge of collapse, so good luck trying to do that job without new ideas. Interestingly, liberal standard bearer Sen. Bernie Sanders (I-Vt.) initially blocked that appointment, according to Paul Wiseman at USA Today. Gensler did work on the Senate staff that drafted the Sarbanes-Oxley Act but, again, that came in the wake of the headline- and pauper-making malfeasance of Enron, WorldCom and that generation of financial engineers who were too smart for their own good.
What's of particular interest is his academic attainment, considering that he doesn't hold a doctorate. In addition to an MBA, he does have 18 years' Goldman Sachs experience. (While it was his mergers-and-acquisition work that led to his rapid rise at the white-shoe investment bank, his most senior work there was in treasury operations – the kind of wonky, back-office work that gets one home by dinner time.)
Gensler is an economics professor at MIT-Sloan and what he's most focused on right now is cryptocurrency and has really drunk deep from the KoolAidCoin. As such, he can probably be relied on to ease off predecessor Jay Clayton's blockchain skepticism, perhaps opening up a new asset class for RIA consideration. Prior academic interest involved quantitative analysis of why mutual funds tend to underperform the market, which would again have a direct impact on the definition of an RIA client's best interest.
Supporting Cast
Rohit Chopra, meantime, awaits confirmation as director of the Consumer Financial Protection Bureau. Like Gensler, he has inside-the-Beltway experience; he currently serves on the Federal Trade Commission.
He's likely to have a direct line to the West Wing as CFPB head. He was a member of now-Sen. Elizabeth Warren's (D-Mass.) team which founded the bureau during the Obama years. In that capacity he presumably worked closely with Deputy Treasury Secretary-designate Wally Adeyemo, who will be Janet Yellen's right-hand man.
Meantime, Biden's pick for Comptroller of the Currency – a key banking regulator – is proving to be controversial for being non-controversial.
Michael S. Barr is basically a boring, middle-aged, to-the-manor-born lawyer. He went to Oxford as a
Rhodes scholar, worked in the U.S. District Court for the Southern District or New York, then clerked for a Supreme Court justice – as one does when one is being groomed for Bigger, Better Things. While he has written on racial and economic equity in such places as South Africa and Panama, here in the United States he's basically another privileged guy in a striped tie and blue blazer.
This, as you can imagine, ticked off a lot of Biden's allies in his party's progressive wing. They wanted someone more like University of California Law Professor Mehrsa Baradaran, author of books with such titles as How the Other Half Banks: Exclusion, Exploitation, and the Threat to Democracy, and
The Color of Money: Black Banks and the Racial Wealth Gap.
While Biden has not yet nominated a CFTC chair, the rumor mill has been grinding on the name of Georgetown University Law School Professor Chris Brummer. An internationally recognized authority -- he speaks fluent German for what it's worth -- on currency markets and money-center banking, he had been nominated for a seat on the commission by Obama -- a nomination that was rescinded in-flight by Trump.
At the
C
lose
It might be instructive to recall that the whole reason there are RIAs in the first place is that history has taught us that unrestricted financial trading is a net negative.
The efficient-market hypothesis presupposes that all information relevant to stock prices is universally shared and, for that to be the case, issuers need to be required to provide it. That means there must be rules of the road governing the dissemination of material information. That means regulation and, thus, regulators. An exchange that isn't regulated is an exchange that no representative fulfilling a fiduciary duty is not likely to find investment vehicles that are in their clients' best interests.
So as long as they remain necessary, it's good to know that there are regulators in place who understand the market and their role in making it work efficiently and to the investors' benefit.
It's also nice to know that Biden's financial regulatory team, while a sharp departure from the previous administration's, is comprised of people who know exactly what they're doing and why.
Author: William Freedman
William Freedman writes about business, technology and finance for Global Finance, Macrotrends, AlphaSense, Sharestates and other news outlets. He holds an MBA in international finance from The American University and serves on the board of governors of the New York Financial Writers' Association.